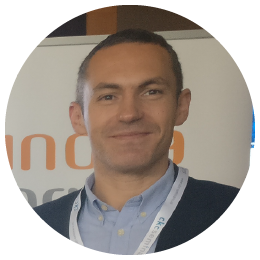 Written by
Marco Batista
---
Today, "digital transformation" will be one of the phrases most frequently heard during the day of a CEO, CFO, CIO, and other C-levels.
Digital transformation is a continuous, consistent, and innovative process that involves the company's culture, values, processes and methodologies.
---
A productive digital transformation needs to consider the design, thinking and ways of working of all the organization. It is crucial to listen to, analyse, and understand each department's strategy and processes to develop a plan aligned with their business goals and needs.

All departments have a relevant and important impact on a digital transformation. Today we live in a digital world where most systems, software, and process have a digital connection, a cloud presence or a mere user ID. Increasingly the most simple and straight forward task of an organization will become digitized. The CIO has a key role and responsibility to lead the disruptive and innovative thinking, and anticipate both opportunities and threats, when seeking to create increased value in the business.
---
"Directing the individual project correctly will ensure it is done right. Directing 'all the projects' successfully will ensure we are doing the right projects."

To start a digital transformation journey, and turn an organization into a digital business, is one of the biggest challenges for CIOs. According to Paul Proctor, distinguished VP Analyst at Gartner, "to measure digital transformation progress, CIOs need to shift from using operational efficiency metrics to measures that interest executive decision-makers.". He contines "When a metric has business context, it is much more interesting to the intended audience — and more effective.", "Good digital transformation metrics are not rocket science, but many organizations struggle because they are all over the map. If you want to find out what is important to the executive team or board, you have to ask them."
---
A CIO now has intense pressure and higher expectations from the organization. Everyone expects new ideas, greater efficiently, with more value created, and quickly. CIO's needs to create a structure to support their decisions, and enhance the performance of the IT department, to improve the predictability and quality of the enterprise results.

To meet an enterprise's objectives and expectations, CIOs are increasingly establishing a PMO to support the delivery of a successful, ongoing, digital transformation. The "P" in PMO can stand for one of three things – Project, Program or Portfolio. The first step to implementing a PMO is to define the right "P" for your organizational structure, business goals, and maturity.
What is the difference between a Portfolio, Program, or Project Management Office?
"Project" Management Office provides a project center of excellence to oversee execution and control and delivering successful projects. It focuses on implementing the primary project management process, including simple tools and developing competent project managers.
"Program" Management Offices are focused on the delivery of specific initiatives, supporting achieving sustainable the benefits from these projects/programs. It takes a multi-project perspective, re-allocating project resources as needed whilst the program manager focuses on outcomes and ensures that the right business and project resources are applied, at the right time.
"Portfolio" Management Offices are found in more complex and mature organizations, supporting the achievement of strategic business goals, and contributing to business growth. It facilitates the answering of questions about investment priorities and potential ROI, optimizing the enterprise's portfolio of projects and programs.
While project management and program management have traditionally focused on "doing work right," portfolio management is concerned with "doing the right work".
---
According to KPMG, AIPM and IPMA Global Outlook 2019 (2), the TOP reasons to create a Portfolio Management Office are: to improve the governance (36%), to prioritize activities to strategy (18%), to improve the project management maturity (12%), and to enable consistency of delivery (11%). The Portfolio Management Office can help the CIOs to reduce the business risk by "doing the right work".
One key benefit the Portfolio Management Office provides to improve the digital transformation is allocating limited resources toward enterprise objectives, while factoring in risk, desired outcomes and the inter-relationships between these investments. Usually, the Portfolio Management Office reports to the CIO, CEO, CFO, and other senior executives, and supports their decision making, and alignment with business goals and market strategies. It provides comprehensive, aggregated information, giving greater visibility of performance, costs, risk, investments, and return.
The portfolio management office might be the primary responsibility of one CXO, but it will provide powerful support for the entire organization, improving the business decisions in a competitive market, and during demanding times for all teams.

Digitization is more than just a trend, a process, or a cycle, it is a new way to live and work for both organizations and society. All organizations will need to be prepared to understand how to utilize and maximize the value they derive from it.

Learn more about our PMO solutions here or if you have comments/questions please contact us.